blue/blue folder gluer belt
blue/blue folder gluer belt
Blue/blue folder gluer belt consists of three plys, the middle is black stong polyamide, the surface and the bottom are blue NBR, which provides good force of friction. Folder gluer belt has features of soft, stable and low noise during operation. Our standard thickness has 3mm, 4mm and 6mm.
Production Factory

High Quality

Good Price

OEM/ODM
Details
blue/blue folder gluer belt
---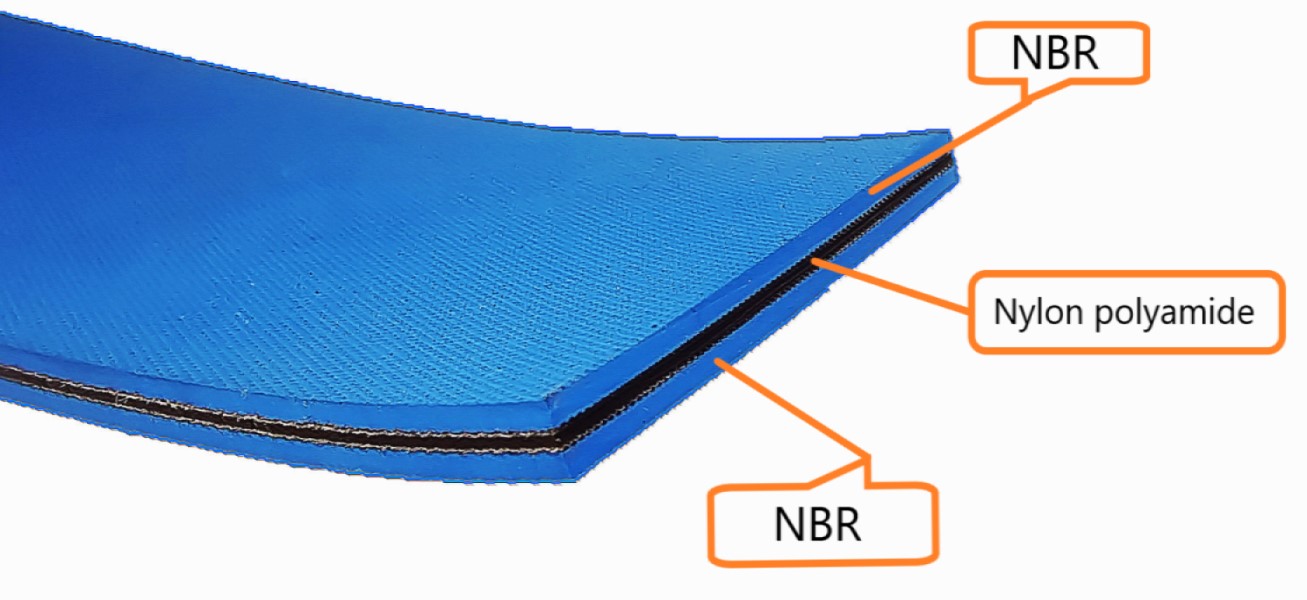 ---
| | | | | | | |
| --- | --- | --- | --- | --- | --- | --- |
| Model | Thickness | Strength | Friction coefficient | Min pulley diameter | Color | Weight |
| RB-3BL | 3.0mm | 5.0N/mm | 0.7 | 25mm | blue/blue | 4.0kg/m2 |
| RB-4BL | 4.0mm | 5.0N/mm | 0.7 | 30mm | blue/blue | 5.1kg/m2 |
| RB-6BL | 6.0mm | 6.0N/mm | 0.7 | 60mm | blue/blue | 7.6kg/m2 |
---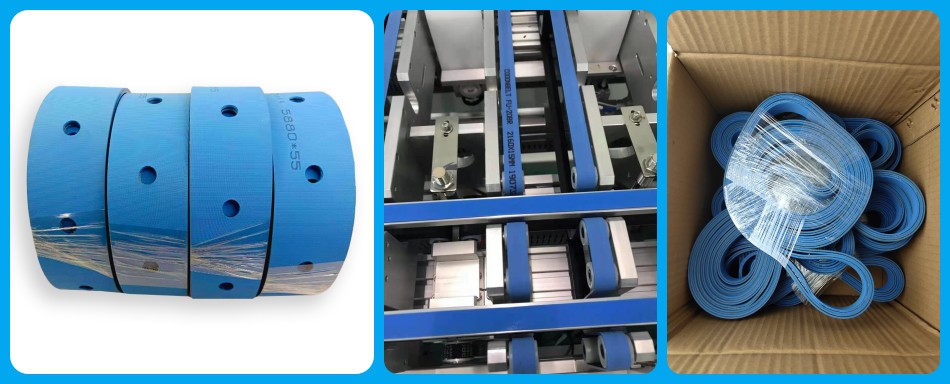 Folder gluer belt is suitable for the occasions which has compact transmission mechanism, high speed machine.Such as: cigarette, paper making, textile machinery, military industry and so on.

Blue folder gluer belt has features of light weight, high strength, wear resistance, energy-saving and long life srevice.
Folder gluer belt can do many special processing, adding guide, punching holes, adding red rubber, adding sponge and any can be customized.
Why Us
Continuous Innovation
Our company has three patents authorized and eight patents pending. In May 2019, we passed the Shanghai High-tech Achievement Transformation Project, and in September of the same year, we officially became a Shanghai High-tech Enterprise. Since our establishment, our company has been focusing on the industrial belt industry, focusing on innovation, and constantly developing new products, because we believe that innovation is the vitality of the enterprise.

Production Factory
As a manufacturer, we have a standard workshop of 2000 square meters, which has passed ISO9001 quality certification and ISO14001 environmental management system certification. In production, we check every level and arrange professional quality inspection personnel to carry out strict quality inspection on the finished products to ensure that each manufactured product is a premium product. Usually, our factory has a large amount of inventory to provide customers with customized services to meet customer's short delivery requirements.

12 Years Industrial Belt Experience
During the 12 years of customer service, we have helped thousands of companies to provide countless solutions to belt problems. From the belt configuration of Mercedes-Benz's automobile production line, the installation and commissioning of the conveyor belt at Nike's logistics center, and the development and application of roll-up belts in steel mills and aluminum plants.We have accumulated a wealth of industrial belt industry experience, and these experiences have motivated continuously develop new products. Whether you are selecting a belt for a new machine or a problem with an existing belt, we are ready to provide you with professional advice and solutions.

Professional Staff
Professional team. Our employees are all professionally trained. Our professionalism and service of sales staff has won praise and recognition from customers. Any inquiry from you will be answered within 24 hours.

OEM/ODM Available
OEM/ODM order available. Reliable machinery has the experience capability and professional R&D team to make any OEM/ODM customer's project, responsible work shop managent follow up and supervise each other.